Host A Gold Party
Wouldn't it be great to have a party with your friends AND get paid?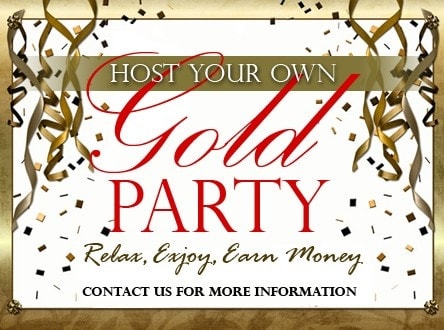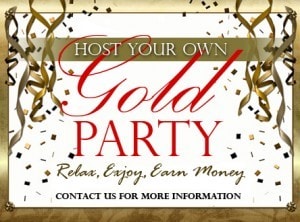 When you host a Houston Merchants Gold party, you can!!  Just get all of your friends and family together and give them the chance to turn their old and unwanted gold and silver into cash!
You schedule a party, (we'll send you an email to copy with all the information) usually three weeks in advance to make sure people can attend. We bring the testing equipment and provide the knowledge so that your friends and family never have to come into the store. They can sell their broken or unwanted gold, old class rings, unmatched earrings, etc…for cash!
As host we will pay you a 10% commission of everything purchased at your party, (or if you have more than 10 people, 20%)  and we'll pay you a 5% commission on everything we purchase from any of YOUR guest's parties.
With Houston Gold Merchants, it's easy to alert your friends to this opportunity. We'll give you all the information you need. Invite your family, friends, neighbors, co-workers, classmate's parents, and friends you want to reconnect with.  Don't forget to invite more guests than you think will come, because usually some friends cancel.
If they can't attend your party due to a scheduling conflict, you can have them drop off their gold in a marked bag or plastic baggie – we'll test and weigh their gold and fill the bag with cash!
The owner of Houston Gold Merchants will arrive about 30 minutes prior to the party to set up and explain how you can help in making your party a huge success. All you need is a table and good lighting. We'll do all the rest.
Just a formality, but in accordance with local, state and Federal regulations, all customers of Houston Gold Merchants, both in-store and at home parties are expected to furnish state-issued identification.
If you have any questions on hosting a gold party, don't hesitate to call us at 832-259-7225