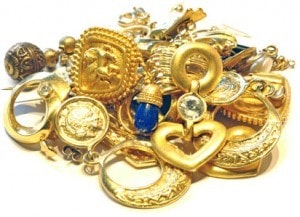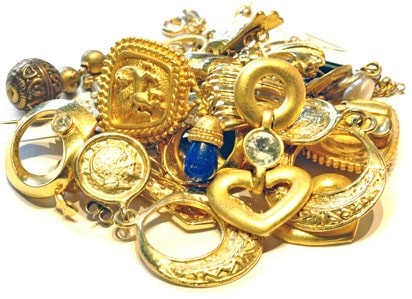 Depending on the economic situation, supply and demand and other macro-economic factors, the price of gold usually increases in times of economic stress.  We've been in a "time of economic stress" for several years now. In 2011, prices reached an all-time high and have retreated somewhat in the first half of 2012. People who have ben waiting for a drop in prices may have recently missed their chance when gold was at $1580/oz just a few weeks ago.
Though volatility is always a concern, current prices are within 15% of their highest levels in recorded history. While gold and silver have increased dramatically in price for the last few years, there's nobody on the planet who knows what's going to happen next. Choose your time to sell based on your own criteria: 1) Your personal timeline. 2) Have you researched the gold buyer you intend to work with? 3) Verify – Do they show you the calculations of the gold price or do they just spit out a number. 4) Value – Getting the best deal…Do they do what they SAY they're going to do? All of the questions will help you get the best deal and keep you from getting riped off by unscrupulous buyers.
Your Personal Timeline
You may be in a tight spot and need money right away. Lots of people are facing tougher economic decisions. We get that. But we don't want you to make a bad decision. We want you to make decisions based on your needs, not the needs of some guy behind a counter. Understanding your rquirements in terms of a timeline are critical to making the best decision. With most gold buyers, if you walk in the door, you're trapped. So know that you're going to sell (or not) before you walk in the door. Don't make a split second decision. Know when you're going to sell – and before you actually do sell, do your research.
Research
Do you know who buys gold nearby? You should be actively looking for scrap gold buyers and sellers in your local area.  You need to have more than one source to sell gold to or you will be at the mercy of unscrupulous gold dealers. Do yourself a favor, don't use large chains like Gold and Silver Buyers. They have high corporate overhead costs that YOU pay for with your gold. Use a mom and pop shop, but do your research first. Check Google for reviews, try Yelp or other service review sites. That's the way to tell who's doing an honest business.
Call to Verify
Calling for a quote is a great way to figure out who's going to give you the best deal. It's a start, anyway. Because what someone quotes and what they actually pay you can be two different things. But getting a quote is a good way to verify what you've read on the net. Ask questions, talk to them. If they won't talk to you, or won't quote you, hang up, move on to a different buyer. There are plenty out there. But ask for a quote to make sure you're not getting a bunch of double talk.
Value
Information is abundant today, so you can find the value of  your scrap gold pretty quickly and determine a value for the item you want to sell. If you'd like to use our gold calculator, you can use this link. It will usually be an amount based on the current gold price minus the dealer's fee. The fee should be in the range of 20-30% of the total.  And once you determine a price for the scrap gold you can then determine how much you want to sell.  Most of the time, it's best to sell some, but not all of your gold. Save some for a rainy day. You can always sell later. Develop a relationship with the buyer. That makes sense and that saves you money!!